Eritrea Google Maps is a site/tool that offers a wide range of map views (topographic, satellite, street view) and navigation options, with little effort on your part, yet efficiently. If you need to plan a trip to a new place like Eritrea, Google maps are available on desktop, mobile, or tablet. This Google maps and information page is dedicated to Eritrea, Africa (54 countries), showing its location, country facts, details about its capital city Asmara, bordering countries like Djibouti, Ethiopia, Sudan, and plenty of other information which may be interesting when you visit this African state.
Quick links: Google maps Eritrea, Asmara Google maps, Driving Directions Eritrea, Printable Road Map.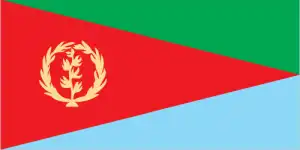 About Eritrea in a nutshell
Eritrea was modern Italy's first African colony. It's named for the ancient Greek for Red Sea: Erythra Thalassa.
Conventional short form of the name: Eritrea
The conventional long form of the name: State of Eritrea
Local long form: Hagere Ertra
Local short form: Ertra
Former name(s): Eritrea Autonomous Region in Ethiopia
Etymology: the country name derives from the ancient Greek appellation Erythra Thalassa meaning Red Sea, which is the major water body bordering the country.
The legal system in Eritrea: mixed legal system of civil, customary, and Islamic religious law.
Climate: Warm in the mountains; desert areas are hot. Droughts from July onward are common.
The national symbols are camel; national colors: green, red, blue.
Internet TLD: .er
Background

After independence from Italian colonial control in 1941 and 10 years of British administrative control, the UN established Eritrea as an autonomous region within the Ethiopian federation in 1952. Ethiopia's complete annexation of Eritrea as a province 10 years later sparked a violent 30-year struggle for independence that ended in 1991 with Eritrean rebels defeating government forces. Eritreans overwhelmingly approved independence in a 1993 referendum. ISAIAS Afwerki has been Eritrea's only president since independence. His rule, mainly since 2001, has been highly autocratic and repressive. His government has created a highly militarized society by pursuing an unpopular program of mandatory conscription into national service – divided between military and civilian service – of indefinite length. A two-and-a-half-year border war with Ethiopia that erupted in 1998 ended under UN auspices in December 2000.
Ethiopia rejected a subsequent 2007 Eritrea-Ethiopia Boundary Commission (EEBC) demarcation. More than a decade of a tense "no peace, no war" stalemate ended in 2018 after the newly elected Ethiopian prime minister accepted the EEBC's 2007 ruling. The two countries signed declarations of peace and friendship. Following the July 2018 peace agreement with Ethiopia, Eritrean leaders engaged in intensive diplomacy around the Horn of Africa, bolstering regional peace, security, and cooperation and brokering rapprochements between government and opposition groups. In November 2018, the UN Security Council lifted an arms embargo imposed on Eritrea since 2009, after the UN Somalia-Eritrea Monitoring Group reported they had not found evidence of Eritrean support in recent years for Al-Shabaab. The country's rapprochement with Ethiopia has led to a steady resumption of economic ties, increasing air transport, trade, tourism, and port activities. However, the economy remains agriculture-dependent, and Eritrea is still one of Africa's poorest nations. Despite the country's improved relations with its neighbors, ISAIAS has not let up repression and conscription and militarization continue.
Geography

Mainly consists of rugged mountains, bush, and the Danakil Desert, which falls below sea level.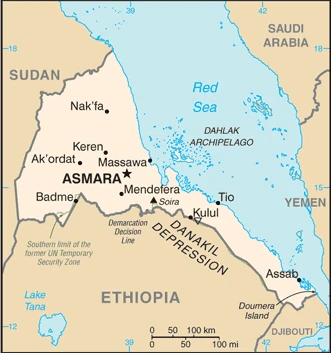 Lying along the southwest shore of the Red Sea, Eritrea won a long war for independence from Ethiopia in 1993. The two neighbors fought a bitter border war in 1998–2000.
This state is located in Eastern Africa, bordering the Red Sea, between Djibouti and Sudan, under the coordinates of 15 00 N, 39 00 E, covering an area of 117,600 sq km with a coastline of 2,234 km. Eritrea is Slightly smaller than Pennsylvania.
Eritrea has 1,840 km of land boundaries in total and borders with (3 nations): Djibouti 125 km, Ethiopia 1033 km, Sudan 682 km.
Dominated by extension of Ethiopian north-south trending highlands, descending on the east to a coastal desert plain, on the northwest to hilly terrain and the southwest to flat-to-rolling plains, with Soira 3,018 m as the highest point of Eritrea, while near Kulul within the Danakil Depression -75 m as the lowest point, causing a mean elevation at 853 m throughout the country. With a total of 117,600 sq km, Eritrea has 101,000 sq km of land and 16,600 sq km water surface area.
The principal river is the Nile (shared with Sudan, South Sudan, Egypt, Ethiopia, Kenya, the Democratic Republic of the Congo, Burundi, Rwanda, Uganda, and Tanzania) – 6,650 km.
Strategic geopolitical position along with the world's busiest shipping lanes; Eritrea retained the entire coastline of Ethiopia along the Red Sea upon de jure independence from Ethiopia on 24 May 1993.
The climate in Eritrea is as follows: Hot, dry desert strip along the Red Sea coast, more relaxed and wetter in the central highlands (up to 61 cm of rainfall annually, heaviest June to September), semiarid in western hills and lowlands.
When you visit Eritrea, the natural hazards shall be considered: Frequent droughts, rare earthquakes, and volcanoes; locust swarms volcanism: Dubbi (1,625 m), which last erupted in 1861, was the country's only historically active volcano until Nabro (2,218 m) came to life on 12 June 2011.
The following major health-threatening issues shall be considered when visiting Eritrea: degree of risk: high (2020), bacterial diarrhea, hepatitis A, typhoid fever, malaria, and dengue fever.
Current environmental issues affecting the Eritrean people: deforestation, desertification; soil erosion; overgrazing.
Google maps Eritrea
The capital and other divisions
Capital city: Asmara found under the coordinates 15 20 N, 38 56 E, applying the time zone UTC+3 (8 hours ahead of Washington, DC, during Standard Time), using the following daylight saving time: none.
Asmara is a city in Eritrea, located in the Tigray Region. It is the capital and largest city of Eritrea. Asmara has been a rapidly growing city taking shape since the 1980s. It was founded by a group of Mutawwi'a Muslims led by Sheikh Mohammed Abdillahi Hassan in 1892, who named it "Asmera", after their home village near Zayid Mountain.
Eritrea became independent on 24 May 1993 (from Ethiopia), and its national holiday is Independence Day, 24 May (1991).
Administrative divisions: 6 regions (zobatat, singular – zoba); Anseba, Debub (South), Debubawi Keyih Bahri (Southern Red Sea), Gash Barka, Maakel (Central), Semenawi Keyih Bahri (Northern Red Sea).
People and society

Tigrinya-speakers, mainly Orthodox Christians, are the most numerous of nine main ethnic groups. A strong sense of nationhood has been forged by war. Women played a vital role in combat. Around two-thirds of people are subsistence farmers. Due to the 1997 constitution, Multiparty elections are yet to be held.
The population in Eritrea is 6,147,398 (July 2021 estimate), with an average of 0.98% (2021 estimate) change. That means Eritrea is the No. 111 in the world's populated rank list. With an average of 20.3 years median age (19.7 years for males and 19.7 years for women), Eritrea ranks No. 192 on the globe's median age rank list.
The people living in this country are the Eritrean(s) (noun) or Eritrean (adjective) and belong mainly to the following ethnic groups: Tigrinya 55%, Tigre 30%, Saho 4%, Kunama 2%, Rashaida 2%, Bilen 2%, other (Afar, Beni Amir, Nera) 5% (2010 estimate). Note: data represent Eritrea's nine recognized ethnic groups.
They speak Tigrinya (official language), Arabic (official language), English (official language), Tigre, Kunama, Afar, other Cushitic languages and practice the following religions: Sunni Muslim, Coptic Christian, Roman Catholic, Protestant.
We can conclude the following about the population in Eritrea: Density is highest in the center of the country in and around the cities of Asmara (capital) and Keren. Smaller settlements exist in the north and south, as shown in this population distribution map. In Eritrea, we are talking about 42% (2021) of the total population is living in cities, and most of them reside in the following municipalities: 998,000 Asmara (capital city) (2021).
Industry

Legacy of disruption and destruction from wars; resettlement of refugees. Susceptible to drought and famine: dependent on food aid. Most of the population lives at the subsistence level. Potential for extraction of gold, copper, and oil. Red Sea Location: port at Massawa.
Since formal independence from Ethiopia in 1993, Eritrea has faced many economic problems, including a lack of financial resources and chronic drought. Eritrea has a command economy under the control of the sole political party, the Peoples Front for Democracy and Justice. Like the economies of many African nations, a large share of the population – nearly 80% in Eritrea – is engaged in subsistence agriculture. Still, the sector only produces a small share of the country's total output. Mining accounts for the lions share of output., The government has strictly controlled the use of foreign currency by limiting access and availability; new regulations in 2013 aimed at relaxing currency controls have had a little economic effect. Few large private enterprises exist in Eritrea, and most operate in conjunction with government partners, including several large international mining ventures, which began production in 2013. In late 2015, the Government of Eritrea introduced a new currency, retaining the name nakfa, and restricted the number of complex currency individuals could withdraw from banks per month.
The changeover has resulted in exchange fluctuations and the scarcity of hard currency available in the market. While reliable statistics on Eritrea are difficult to obtain, erratic rainfall and the large percentage of the labor force tied up in military service continue to interfere with agricultural production and economic development. Eritrea's harvests generally cannot meet the country's food needs without supplemental grain purchases. Copper, potash, and gold production are likely to drive limited economic growth and government revenue over the next few years. Still, military spending will continue to compete with development and investment plans.
Eritrea is rich in natural resources: Gold, potash, zinc, copper, salt, possibly oil and natural gas, fish.
The main industrial sectors are food processing, beverages, clothing and textiles, light manufacturing, salt, cement.
The country's export sectors are particularly strong in gold and other minerals, livestock, sorghum, textiles, food, the tiny industry manufacturers, partnering with these nations: China 62%, South Korea 28.3% (2017). The export trade resulted in $624.3 million. Note: Data are in current year dollars (2017 estimate). In a global rank of the export, values resulted in Eritrea's position of 188.
Land use in Eritrea: 15.1% (2018 estimate) forest, 9.8% (2018 estimate) other.
The arable land area is 6.8% (2018 estimate), and the agricultural land is 75.1% (2018 estimate). Land use for permanent crops 0% (2018 estimate), permanent pasture 68.3% (2018 estimate). The sum of the area of the irrigated land is 210 sq km (2012).
The main agro-industrial products of Eritrea are sorghum, milk, vegetables, barley, cereals, pulses nes, roots/tubers nes, wheat, millet, beef.
The country typically needs to import: machinery, petroleum products, food, manufactured goods, partnering with the following nations: UAE 14.5%, China 13.2%, Saudi Arabia 13.2%, Italy 12.9%, Turkey 5.6%, South Africa 4.6% (2017) in a sum value of $1.127 billion (2017 estimate) $1.048 billion (2016 estimate). This sum value on the global ranking list of imports resulted in Eritrea 187.
Eritrea Driving Directions

In this post, you learned about Eritrea, Eastern Africa, bordering the Red Sea, between Djibouti and Sudan. We published some basic information about its capital Asmara, and the Eritrean nation.
Are you interested in visiting Eritrea and looking for driving directions? Click here to plan your route, or see a printable road map of Eritrea below for an overview of the route network.
Printable map of Eritrea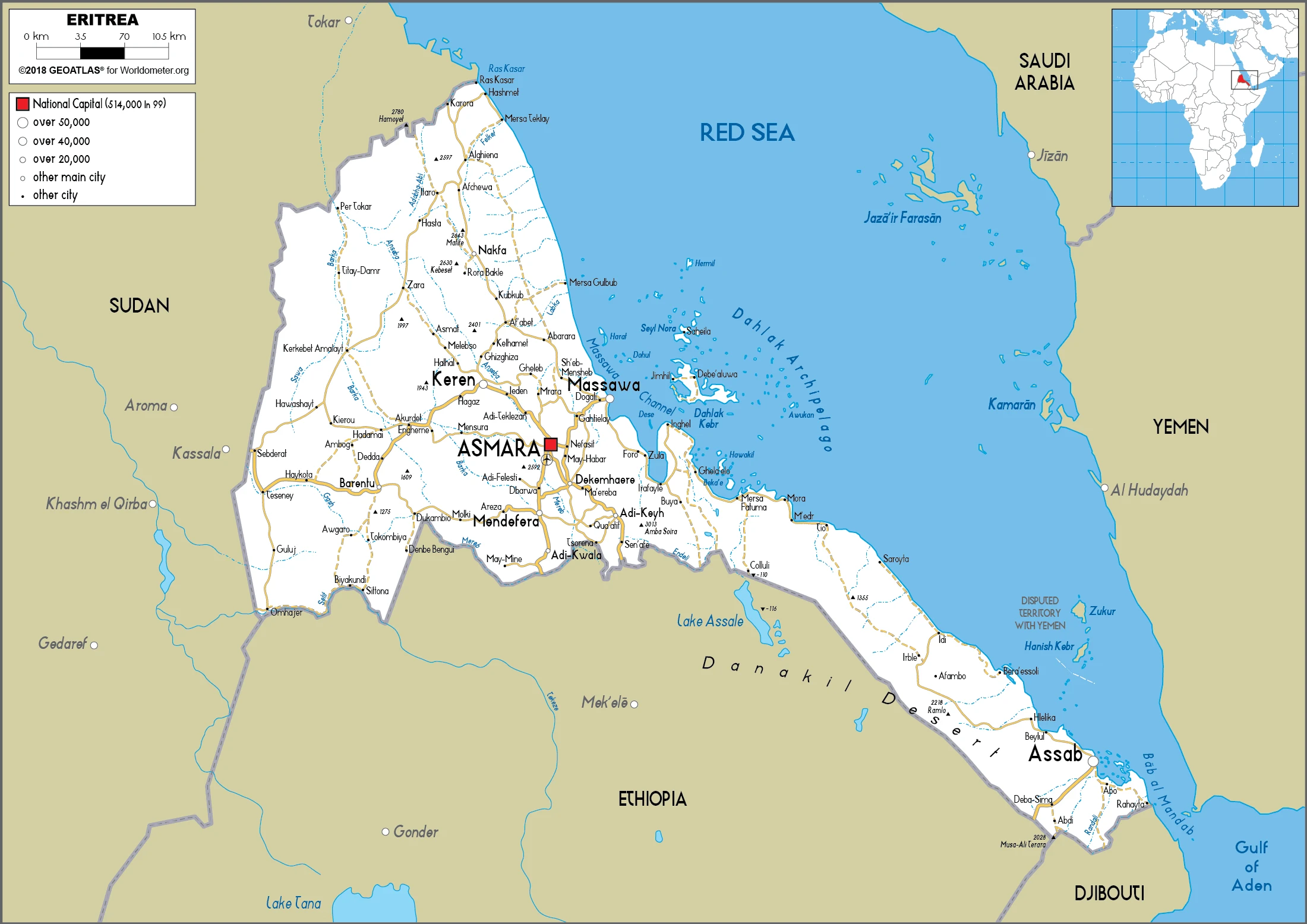 Did you know about Eritrea?
Eritrea is a country in Africa that borders the Red Sea. It's considered to be one of the poorest countries. Life expectancy here is around 60 years old, and the literacy rate is less than 70%. There are also a lot of political problems going on, including a war with neighboring Ethiopia.
After virtually visiting Eritrea, you may also be interested in the neighboring countries: Djibouti, Ethiopia, Sudan.
If you liked our Google map and Eritrea information page,
please share it with others or save the link https://www.drivingdirections.net in your bookmarks.