Tanzania Google Maps is a site/tool that offers a wide range of map views (topographic, satellite, street view) and navigation options, with little effort on your part, yet efficiently. If you need to plan a trip to a new place like Tanzania, Google maps are available on desktop, mobile, or tablet. This Google maps and information page is dedicated to Tanzania, Africa (54 countries), showing its location, country facts, details about its capital city, Dar es Salaam (administrative capital), Dodoma (legislative capital), bordering countries like Burundi, the Democratic Republic of the Congo, Kenya, Malawi, Mozambique, Rwanda, Uganda, Zambia, and plenty of other information which may be interesting when you visit this African state.
Quick links: Google maps Tanzania, Dar es Salaam (administrative capital), Dodoma (legislative capital) Google maps, Driving Directions Tanzania, Printable Road Map.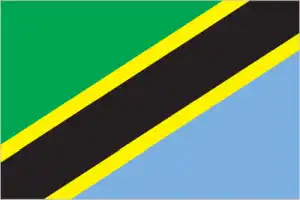 About Tanzania in a nutshell
Conventional short form of the name: Tanzania
The conventional long form of the name: United Republic of Tanzania
Local long form: Jamhuri ya Muungano wa Tanzania
Local short form: Tanzania
Former name(s): German East Africa, Trust Territory of Tanganyika, United Republic of Tanganyika and Zanzibar
Etymology: the country's name is a combination of the first letters of Tanganyika and Zanzibar, the two states that merged to form Tanzania in 1964.
The legal system in Tanzania: English common law; judicial review of legislative acts limited to matters of interpretation.
Climate: Tropical on the coast and Zanzibar. Semiarid on the central plateau, semi-temperate in the highlands. March-May rains.
The national symbols are Uhuru (Freedom) torch and giraffe; the national colors: are green, yellow, blue, and black.
Internet TLD: .tz
Tanzania boasts some of Africa's most significant national parks and World Heritage sites of Swahili culture. The endless plains of the Serengeti are the scene of perhaps Africa's most remarkable natural spectacle every year, with some two million large herbivores participating in the great animal migration. The main attraction of the Ngorongoro Nature Reserve is the Ngorongoro Crater, a 22 km diameter crater in the crater highlands. Nearby Olduvai Gorge is Africa's first hominid site, and prehuman footprints found in volcanic ash at Laetoli are 3.6 million years old. Kilimanjaro National Park, which includes Africa's highest mountain range, is a World Heritage Site. The dwindling icecap of the "Shining Mountain" shows its "better half" from the Kenyan side. The Selous Game Reserve, about the size of the Great Danube, is perhaps the only untouched area of the African savannah. Hunter-gatherers created Kondoa's rock paintings over the last two millennia. On the coast, the ruins of Kilwa Kisiwani and Songo Mnara are the oldest remains of Swahili culture. In contrast, the old city of Zanzibar is a model of a typical Swahili trading town that has fused African, Arab, Indian and European cultures for a millennium.
At 19,340 ft (5895 m), Kilimanjaro in northeast Tanzania is Africa's highest mountain.
Background

Tanzania contains some of Africa's most iconic national parks and famous archeological sites, and its diverse cultural heritage reflects the multiple ethnolinguistic groups that live in the country. Its long history of integration into trade networks spanning the Indian Ocean and the African interior led to the development of Swahili as a common language in much of east Africa and the introduction of Islam into the region. Several independent coastal and island trading posts in what is now Tanzania came under Portuguese control after 1498, when they began to take control of much of the coast and Indian Ocean trade. By 1700, the Sultanate of Oman had become the dominant power in the region after ousting the Portuguese, who were also facing a series of local uprisings. During the following hundred years, Zanzibar – an archipelago off the coast of Tanzania – became a hub of Indian Ocean trade, with Arab and Indian traders establishing and consolidating trade routes with communities in mainland Tanzania that contributed to the expansion of the slave trade. Zanzibar briefly became the capital of the Sultanate of Oman before it split into separate Omani and Zanzibar Sultanates in 1856. In the mid-1800s, European explorers, traders, and Christian missionaries became more active in the region.
The Germans eventually established control over mainland Tanzania – Tanganyika – and the British established control over Zanzibar. Tanganyika came under British administration after the German defeat in World War I. Tanganyika gained independence from Great Britain in 1961, and Zanzibar followed in 1963 as a constitutional monarchy. In Tanganyika, Julius NYERERE, a charismatic and idealistic socialist, established a one-party political system that centralized power and encouraged national self-reliance and rural development. In 1964, a popular uprising overthrew the Sultan in Zanzibar and either killed or expelled many of the Arabs and Indians who had dominated the isles for more than 200 years. Later that year, Tanganyika and Zanzibar combined to form the United Republic of Tanzania, but Zanzibar retained considerable autonomy. Their two ruling parties combined to form the Chama Cha Mapinduzi (CCM) party in 1977. NYERERE handed over power to Ali Hassan MWINYI in 1985 and remained CCM chair until 1990. Tanzania held its first multi-party elections in 1995, but CCM candidates have continued to dominate politics. Political opposition in Zanzibar has led to four contentious elections since 1995, in which the ruling party claimed victory despite international observers' claims of voting irregularities. In 2001, 35 people in Zanzibar died when soldiers fired on protestors following the 2000 election. John MAGUFULI won the 2015 presidential election, and the CCM won a two-thirds majority in Parliament. He was reelected in 2020, and the CCM increased its majority in an election also critiqued by observers. MAGUFULI died in March 2021 while in office and was constitutionally succeeded by his vice president, Samia Suluhu HASSAN.
Geography

The mainland is mostly a high plateau lying east of the Great Rift Valley. Forested coastal plain. Highlands in the north and south.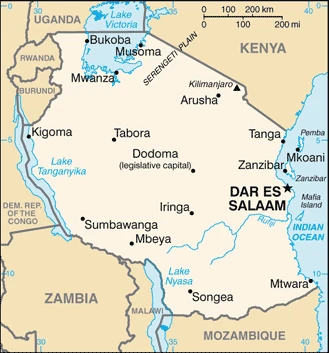 The East African state of Tanzania was formed in 1964 by the union of Tanganyika and the Zanzibar islands. A third of its area is a game reserve or national park.
This state is located in Eastern Africa, bordering the Indian Ocean, between Kenya and Mozambique, under the coordinates of 6 00 S, 35 00 E, covering an area of 947,300 sq km with a coastline of 1,424 km. Tanzania is More than six times the size of Georgia; slightly larger than twice the size of California.
Tanzania has 4,161 km of land boundaries and borders (8 nations): Burundi 589 km, the Democratic Republic of the Congo 479 km, Kenya 775 km, Malawi 512 km, Mozambique 840 km, Rwanda 222 km, Uganda 391 km, Zambia 353 km.
Plains along the coast, central plateau, highlands in north, south, with Kilimanjaro (highest point in Africa) 5,895 m as the highest point of Tanzania, while Indian Ocean 0 m as the lowest point, causing a mean elevation at 1,018 m throughout the country. With a total of 947,300 sq km, Tanzania has 885,800 sq km of land and 61,500 sq km of water surface area.
Major water bodies in the country: Lake Victoria (shared with Uganda and Kenya) – 62,940 sq km; Lake Tanganyika (shared with Democratic Republic of Congo, Burundi, and Zambia) – 32,000 sq km; Lake Malawi (shared with Mozambique and Malawi) – 22,490 (a freshwater lake), Lake Rukwa – 5,760 sq km (saltwater lake) while the major rivers are: Nile (shared with Rwanda, Uganda, South Sudan, Sudan, and Egypt) – 6,650 km. The significant watersheds for Tanzania are Atlantic Ocean drainage: Congo (3,730,881 sq km), (Mediterranean Sea) Nile (3,254,853 sq km), and Indian Ocean drainage: Zambezi (1,332,412 sq km).
Kilimanjaro is the highest point in Africa and one of only three mountain ranges on the continent that has glaciers (the others are Mount Kenya in Kenya and the Ruwenzori Mountains on the Uganda-Democratic Republic of the Congo border); Tanzania is bordered by three of the largest lakes on the continent: Lake Victoria (the worlds second-largest freshwater lake) in the north, Lake Tanganyika (the worlds second deepest) in the west, and Lake Nyasa (Lake Malawi) in the southwest.
The climate in Tanzania is as follows: It varies from tropical along the coast to temperate in the highlands.
When you visit Tanzania, the natural hazards shall be considered: Flooding on the central plateau during the rainy season; drought volcanism: limited volcanic activity; Ol Doinyo Lengai (2,962 m) has emitted lava in recent years; other historically active volcanoes include Kieyo and Meru.
The following major health-threatening issues shall be considered when visiting Tanzania: degree of risk: very high (2020), bacterial diarrhea, hepatitis A, typhoid fever, malaria, dengue fever, Rift Valley fever, schistosomiasis, rabies.
Current environmental issues affecting the Tanzanian people: water pollution; improper management of liquid waste; indoor air pollution caused by the burning of fuel wood or charcoal for cooking and heating is a significant environmental health issue; soil degradation; deforestation; desertification; destruction of coral reefs threatens marine habitats; wildlife threatened by illegal hunting and trade, especially for ivory; loss of biodiversity; solid waste disposal.
Google maps Tanzania
The capital and other divisions
Capital city: Dar es Salaam (administrative capital), Dodoma (legislative capital) found under the coordinates 6 48 S, 39 17 E, applying the time zone UTC+3 (8 hours ahead of Washington, DC, during Standard Time), using the following daylight saving time: none.
Dar es Salaam is the largest city in Tanzania. It is one of the fastest-growing cities in Africa and has seen a significant increase in population over the last 20 years. Dar es Salaam is known as "the garden city" because of its abundant vegetation. Dar es Salaam features its unique skyline with tall buildings and a big lake filled with crocodiles. It is on the country's east coast, along the Indian Ocean.
Tanzania became independent on 26 April 1964 (Tanganyika united with Zanzibar to form the United Republic of Tanganyika and Zanzibar); 29 October 1964 (renamed the United Republic of Tanzania); notable earlier dates: 9 December 1961 (Tanganyika became independent from UK-administered UN trusteeship); 10 December 1963 (Zanzibar became independent from the UK), and its national holiday is Union Day (Tanganyika and Zanzibar), 26 April (1964).
Administrative divisions: 31 regions; Arusha, Dar es Salaam, Dodoma, Geita, Iringa, Kagera, Kaskazini Pemba (Pemba North), Kaskazini Unguja (Zanzibar North), Katavi, Kigoma, Kilimanjaro, Kusini Pemba (Pemba South), Kusini Unguja (Zanzibar Central/South), Lindi, Manyara, Mara, Mbeya, Mjini Magharibi (Zanzibar Urban/West), Morogoro, Mtwara, Mwanza, Njombe, Pwani (Coast), Rukwa, Ruvuma, Shinyanga, Simiyu, Singida, Songwe, Tabora, Tanga.
People and society

99% of people belong to one of 120 small ethnic Bantu groups. Arabs, Asians, and Europeans make up the remaining population. The use of Kiswahili as the lingua franca has eliminated ethnic rivalries. The majority of Tanzanians are subsistence farmers.
The population in Tanzania is 62,092,761 (July 2021 estimate). Note: estimates for this country explicitly take into account the effects of excess mortality due to AIDS; this can result in lower life expectancy, higher infant mortality, higher death rates, lower population growth rates, and changes in the distribution of the population by age and sex than would otherwise be expected, with an average of 2.81% (2021 estimate) change. That means Tanzania is the No. 24 in the world's populated rank list. With an average of 18.2 years median age (17.9 years for males and 17.9 years for women), Tanzania ranks No. 212 on the globe's median age list.
The people living in this country are the Tanzanian(s) (noun) or Tanzanian (adjective) and belong mainly to the following ethnic groups: mainland – African 99% (of which 95% are Bantu consisting of more than 130 tribes), other 1% (consisting of Asian, European, and Arab); Zanzibar – Arab, African, mixed Arab and African.
They speak Kiswahili or Swahili (official language), Kiunguja (the name for Swahili in Zanzibar), English (official language, primary language of commerce, administration, and higher education), Arabic (widely spoken in Zanzibar), many local languages and practice the following religions: Christian 63.1%, Muslim 34.1%, folk religion 1.1%, Buddhist <1%, Hindu <1%, Jewish <1%, other <1%, unspecified 1.6% (2020 estimate) note: Zanzibar is almost entirely Muslim. We can conclude the following about the population in Tanzania: The largest and most populous east African country. Population distribution is highly uneven, but greater population clusters occur in the country's northern half and along the east coast, as shown in this population distribution map. In Tanzania, we are talking about 36% (2021) of the total population lives in cities, and most of them reside in the following municipalities: 262,000 Dodoma (Legislative Capital) (2018), 7.047 million, Dar Es Salaam (Administrative Capital), 1.182 million, Mwanza (2021).
Industry

Reliant on agriculture, including forestry and cattle. Coffee, cotton, tea, cashew nuts, sisal, and cloves are cash crops. Gold, diamonds, and gems are mined. Safari and beach tourism. Debt relief.
Tanzania has achieved high growth rates based on its vast natural resource wealth and tourism, with GDP growth in 2009-17 averaging 6%-7% per year. Dar es Salaam used fiscal stimulus measures and easier monetary policies to lessen the impact of the global recession and, in general, benefited from low oil prices. Tanzania has largely completed its transition to a market economy, though the government retains a presence in sectors such as telecommunications, banking, energy, and mining. The economy depends on agriculture, which accounts for slightly less than one-quarter of GDP and employs about 65% of the workforce. However, gold production in recent years has increased to about 35% of exports. All land in Tanzania is owned by the government, which can lease land for up to 99 years. Proposed reforms to allow land ownership, particularly foreign land ownership, remain unpopular.
The financial sector in Tanzania has expanded in recent years, and foreign-owned banks account for about 48% of the banking industry's total assets. Competition among foreign commercial banks has resulted in significant improvements in the efficiency and quality of financial services, though interest rates are still relatively high, reflecting high fraud risk. Banking reforms have helped increase private-sector growth and investment., The World Bank, the IMF, and bilateral donors have provided funds to rehabilitate Tanzania's aging infrastructure, including rail and port, which provide important trade links for inland countries.
In 2013, Tanzania completed the world's largest Millennium Challenge Compact (MCC) grant, worth $698 million, but in late 2015, the MCC Board of Directors deferred a decision to renew Tanzania's eligibility because of irregularities in voting in Zanzibar and concerns over the government's use of a controversial cybercrime bill., The new government elected in 2015 has developed an ambitious development agenda focused on creating a better business environment through improved infrastructure, access to financing, and education progress. However, implementing budgets remains challenging for the government. Recent policy moves by President MAGUFULI are aimed at protecting domestic industry and have caused concern among foreign investors.
Tanzania is rich in the following natural resources: Hydropower, tin, phosphates, iron ore, coal, diamonds, gemstones (including tanzanite, found only in Tanzania), gold, natural gas, and nickel.
The main industrial sectors are typically agricultural processing (sugar, beer, cigarettes, sisal twine); mining (diamonds, gold, and iron), salt, soda ash; cement, oil refining, shoes, apparel, wood products, and fertilizer.
The country's export sectors are particularly strong in gold, tobacco, cashews, sesame seeds, and refined petroleum (2019), partnering with these nations: India 20%, United Arab Emirates 13%, China 8%, Switzerland 7%, Rwanda 6%, Kenya 5%, Vietnam 5% (2019). The export trade resulted in $9.66 billion. Note: Data are in current year dollars (2019 estimate). In a global export rank, values resulted in Tanzania's position of 102.
Land use in Tanzania: 37.3% (2018 estimate) forest, 19% (2018 estimate) other.
The arable land area is 14.3% (2018 estimate), and the agricultural land is 43.7% (2018 estimate). Land use for permanent crops 2.3% (2018 estimate), permanent pasture 27.1% (2018 estimate). The area of the irrigated land is 1,840 sq km (2012).
The main agro-industrial products of Tanzania are cassava, maize, sweet potatoes, sugar cane, rice, bananas, vegetables, milk, beans, and sunflower seed.
The country typically needs to import: refined petroleum, palm oil, packaged medicines, cars, and wheat (2019), partnering with the following nations: China 34%, India 15%, the United Arab Emirates 12% (2019) in a sum value of $10.36 billion. Note: data are in current year dollars (2019 estimate) $10.2 billion. Note: data are in current year dollars (2018 estimate). This sum value on the global list of imports resulted in Tanzania 105.
Tanzania Driving Directions

In this post, you learned about Tanzania, Eastern Africa, bordering the Indian Ocean, between Kenya and Mozambique. We published some basic information about its capital, Dar es Salaam (administrative capital), Dodoma (legislative capital), and the Tanzanian nation.
Are you interested in visiting Tanzania and looking for driving directions? Click here to plan your route, or see a printable road map of Tanzania below for an overview of the route network.
Printable map of Tanzania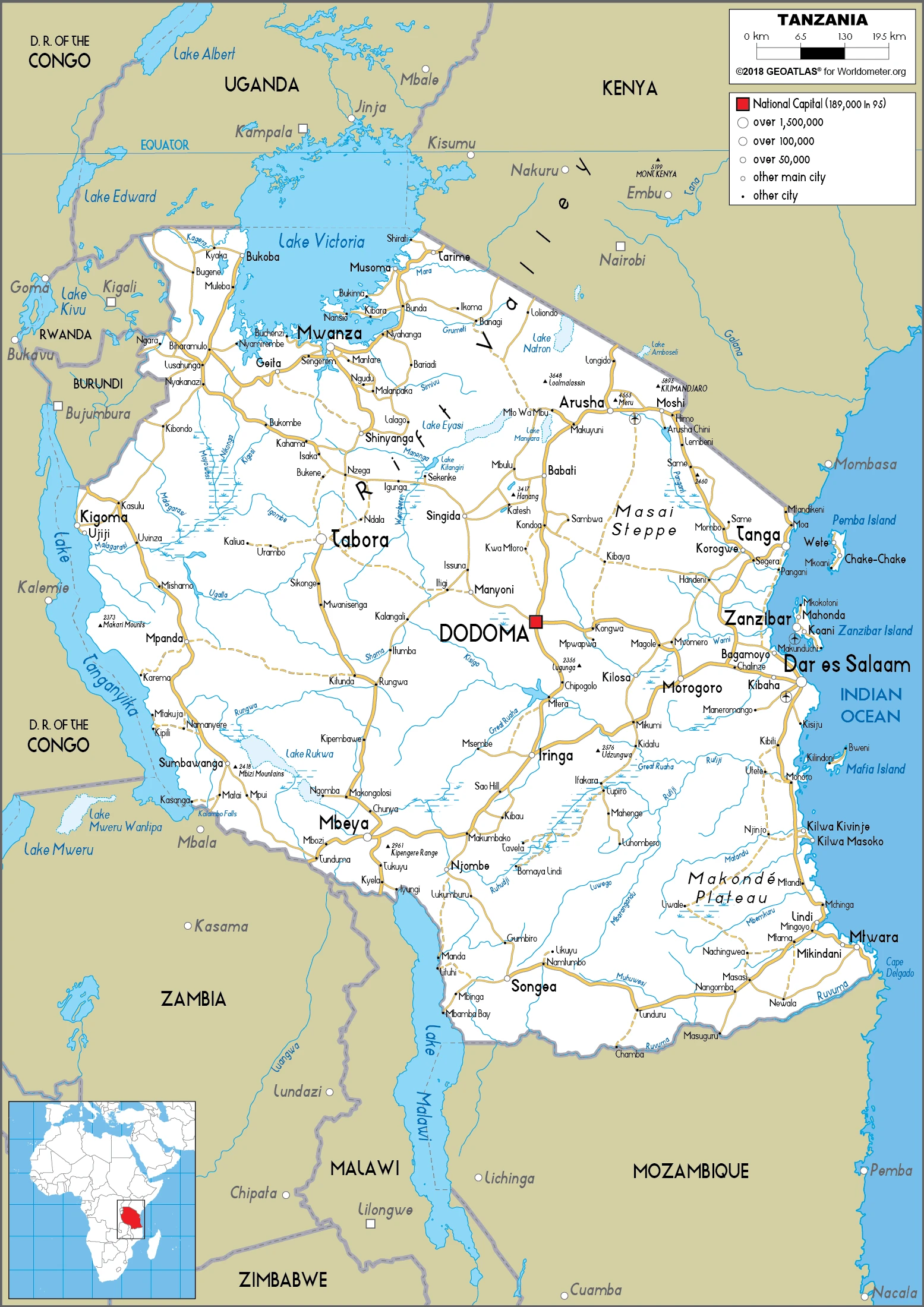 Did you know about Tanzania?
Tanzania is located in East Africa and is home to Mount Kilimanjaro, the tallest mountain in Africa. Tanzania is also home to the Serengeti, a large plain where lions, elephants, and other animals live. The people of Tanzania are very friendly and welcoming. If you ever have a chance to visit Tanzania, you should take it!
After visiting Tanzania virtually, you may also be interested in the neighboring countries: Burundi, the Democratic Republic of the Congo, Kenya, Malawi, Mozambique, Rwanda, Uganda, and Zambia.
If you liked our Google map and Tanzania information page,
please share it with others or save the link https://www.drivingdirections.net in your bookmarks.